ARCUSIN MULTIPACK C14+ DEMONSTRATION DAY
You are invited to attend our machine demonstration day which is to be held close to the village of Murcott in Oxfordshire on Thursday 4th April 2019. Murcott village is just off the M40 motorway and is easily accessible being north-east of Oxford. The event will be held from 10.00am until 4.00pm. This event is intended for potential customers who are considering the purchase of a new machine but would like to see how the Arcusin Multipack C14+ machine operates before committing to a purchase. Visitors can make a short visit of about one hour or are very welcome to stay longer and ask as many questions as they want.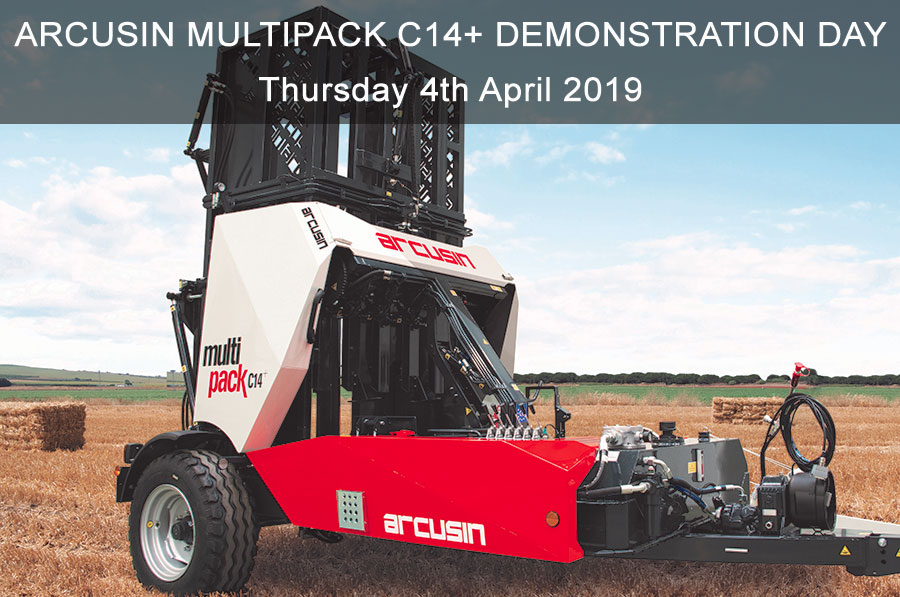 This year the Arcusin Multipack C14 has been re-branded as the Arcusin Multipack C14+ to celebrate 25 years of the development of this conventional bale packing machine. All new machines will now be sold with the new colour scheme as shown in the photo. We will be demonstrating the new Arcusin Multipack C14+. For more detailed information about the location of this event please complete the contact us form from this website and I will then email the location details to you.
–

LAMMA – the UK's largest farm machinery, equipment and agricultural services show.
Held in January each year with over 900 exhibitors, LAMMA is free to attend and regularly attracts over 40,000 farmers from around the country and overseas.
You will find all the information you need to know on the website here

The Midlands Machinery Show  is organised by the Newark and Nottinghamshire Agricultural society, and is a platform for the small and medium sized agricultural businesses to show their diverse range of machinery and innovation to those who work in agriculture and have an interest in agriculture.
Visit the website at www.midlandsmachineryshow.com