ARCUSIN MULTIPACK C14+ DEMONSTRATION DAY
You are invited to attend our machine demonstration day which is to be held close to the village of Murcott in Oxfordshire on Thursday 4th April 2019. Murcott village is just off the M40 motorway and is easily accessible being north-east of Oxford. The event will be held from 10.00am until 4.00pm. This event is intended for potential customers who are considering the purchase of a new machine but would like to see how the Arcusin Multipack C14+ machine operates before committing to a purchase. Visitors can make a short visit of about one hour or are very welcome to stay longer and ask as many questions as they want.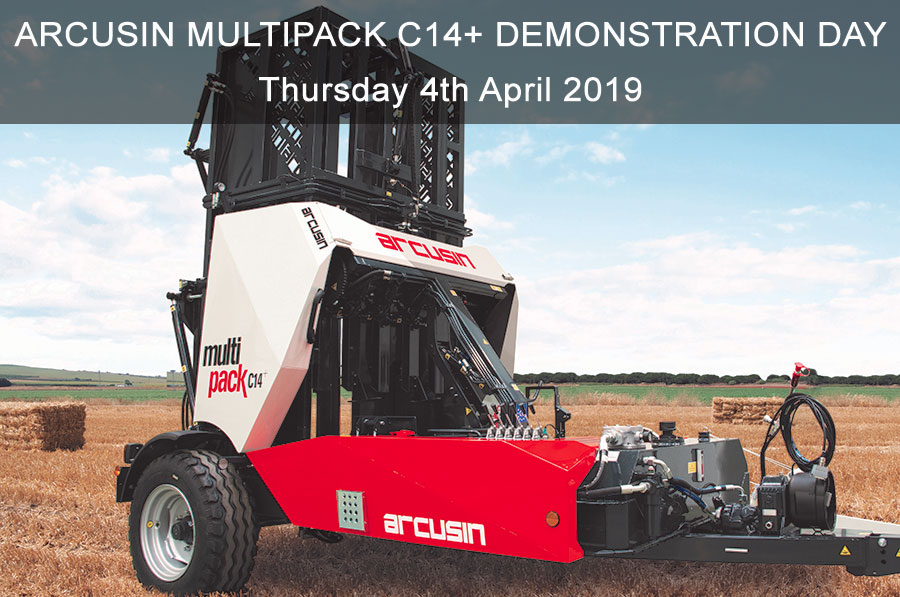 This year the Arcusin Multipack C14 has been re-branded as the Arcusin Multipack C14+ to celebrate 25 years of the development of this conventional bale packing machine. All new machines will now be sold with the new colour scheme as shown in the photo. We will be demonstrating the new Arcusin Multipack C14+. For more detailed information about the location of this event please complete the contact us form from this website and I will then email the location details to you.
The Multipack C14 is a fully automatic small bale packers for fast and efficient bale handling. Allows fully mechanised bale handling from field to customer, without losing the market advantage that small bales provide.
NOTE: The Arcusin Multipack B14 is no longer available to purchase from new.
Generating Profit
One man operation to collect and pack conventional square bales.
Fully automatic system: the tractor driver just presents the bales to the pickup head.
Significant time and cost savings in bale collection, transportation, storage and handling.
Allows for fully mechanised bale handling process.
Packing is separate from the baling process and so can be done when not baling as well as when baling (e.g. can pack in the evening when it is too damp to bale).
Barn storage of packs is an efficient use of space. Stacks are very stable and the barn can be mechanically filled and emptied.
Economical to run: low tractor horsepower requirement.
Versatile
14 bales per pack (maximum).
10 or 12 bales per pack (with the use of a chamber restrictor). Ten bale packs are used when the packs require wrapping.
Conventional square bales of any size can be handled, up to a maximum length of 120 cm.
Packs hay, straw and haylage.
Will also operate in a stationary mode, packing barn stored bales out of season.
Reliable
Designed, tested and manufactured for intensive work under all field conditions.
Mechanical and operational simplicity.
All operations controlled from tractor cab.
Low maintenance requirements.
Trouble free operation.
Easy setup, only basic training required.